The swimming pool of the gîtes and guest rooms with a view of the Pyrenees
"Swimming pool with magnificent view of the Pyrenees"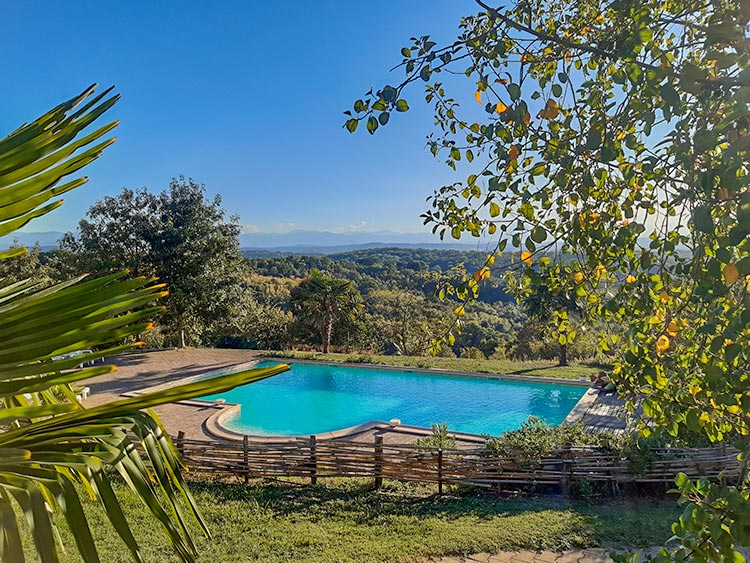 The swimming pool of the guest house in Artigat
If you are looking for charming accommodation with a swimming pool in the Ariege Pyrenees, Ferme Beauregard is the ideal place. With a dimension of 6x12m and a depth of 1m50, the swimming pool of the Beauregard Farm offers you a dream space for a refreshing swim.
Allow yourself a few hours … Sit on a deck chair by the pool and let your imagination run free, lulled by the sublime view of the Pyrenees.
Swim, take a nice nap by the pool or take time to read a book? Like an oasis in the heart of a huge garden, let yourself be disoriented and enjoy this unique moment.
Swimming pool with view on the Pyrenees
With its swimming pool and breathtaking view of the Pyrenees mountains, the B&B Ferme Beauregard offers you the relaxing space you need for a successful vacation. It is the ideal place to take time for yourself and to reconnect.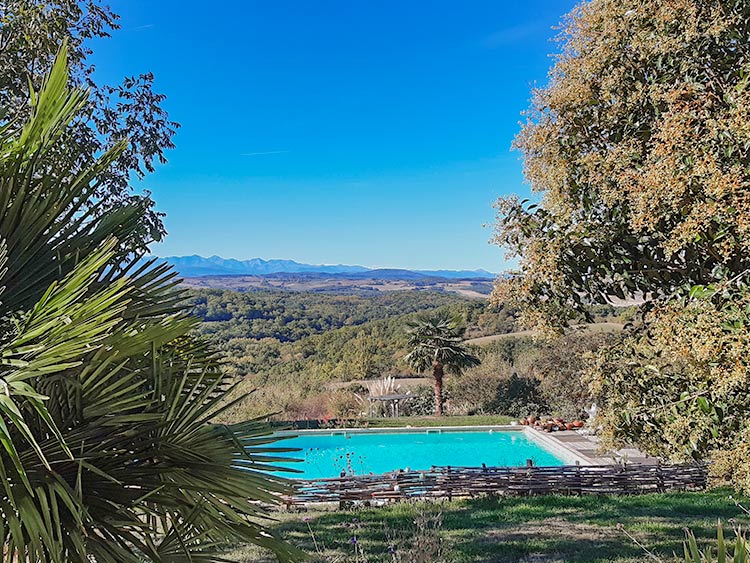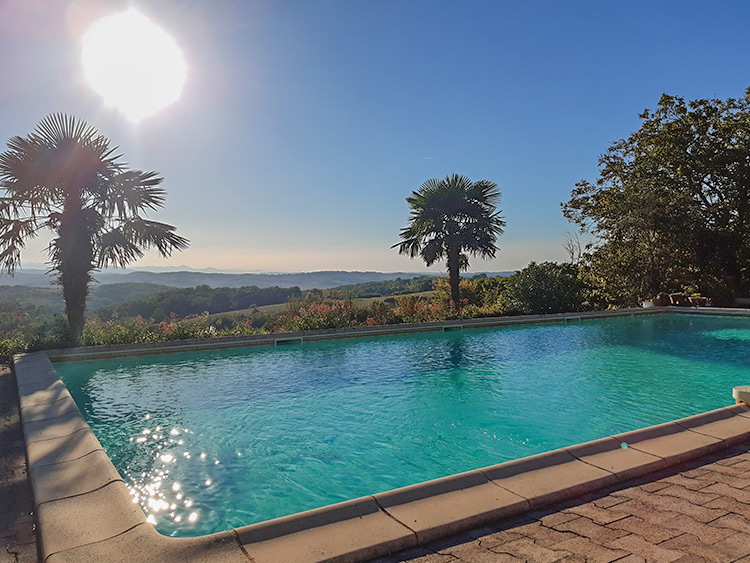 Relaxing vacations by the pool in Ariège
After a hike, a walk or a visit in the villages of the Ariege you can dive into this beautiful pool. The benefits of water will be felt on all your muscles after a day of intense tourism where they will have been strongly requested.
Relax on the loungers by the water and take in the beautiful view as you are lulled by the birdsong. In Artigat, by the pool, time stands still… for a moment of relaxation where daily life is no longer important.
Total refreshment during hot summer days. Dive in and give your bodies the delight they deserve.
What do our customers think of the pool?
Margreet D.
A nice gite with a nice garden and a beautiful pool, but this panoramic view of the Pyrenees really completes the picture: indescribably beautiful!
Musette G.
La Ferme Beauregard is beautifully located and each time it is a pleasure with a capital P. The swimming pool with a view of the Pyrenees offers refreshment. And in the well-kept and abundantly flowered garden, places have been created everywhere where you can sit and retreat for a while. In short, if you are looking for a place to completely relax, be pampered and have plenty of opportunities to go out, then I highly recommend Ferme Beauregard.
Discover our services, our rooms and our rates!